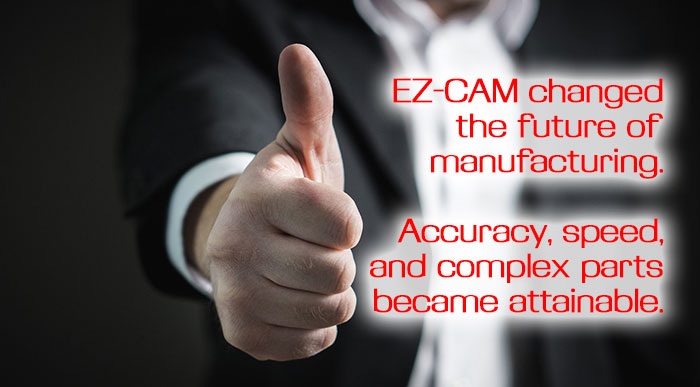 Bridgeport and EZ-CAM dominated the market together, and EZ-CAM carried Bridgeport in the CNC arena. Bridgeport started in 1938 without a competitor in sight. Bridgeport mills fueled most every job shop right on up to every corporate enterprise. In its inception, EZ-CAM paired flawlessly with the early CNC controls. "We were feeding unimaginable amounts of code to every CNC machine Bridgeport could push out." EZ-CAM changed the future of manufacturing. Accuracy, speed, and complex parts became attainable.
EZ-CAM became famous through easy to grasp concepts and supported Bridgeport's massive customer base. Soon, we expanded into the Turn and EDM markets. Proven by the test of time, EZ-CAM maintains a user-friendly environment throughout each product category. The need for a programmer to master G & M codes went by the wayside. At the click of a button, pages of code stand ready for your every machine—post processors are included and customized for customers with the latest release.
EZ-CAM's ease of use exploded this year. With increased functionality in Feature Recognition, Tool Based Machining, wizards, and the user interface, you destroy any programming record. Feature Recognition automatically creates cutter paths. Tool Based machining loads your machining strategies after you select a tool. Wizards rid overwhelming and unnecessary clutter when programming complex shapes. The user interface is packed with keyboard shortcuts, and functions are easily identified graphically through eye-catching menu items.
Our customization goes beyond the interface. Through custom videos, we teach you techniques on your parts. Fighting to remember any concept is a thing of the past with EZ-CAM. Generic videos make for outstanding guides–they are short and based on common scenarios you will most likely face. The dream of cutting parts the first day can be your reality. So, get started right away and call 508-347-3222 or buy online at www.ezcam.com